ARM® Cortex®-M4 with FPU

ARM's Ultra-Low-Power DSP Class Processor

The ARM Cortex-M4 processor is an award winning processor specifically developed to address digital signal control markets that demand an efficient, easy-to-use blend of control and signal processing capabilities. EFM32™ MCUs combine high-efficiency signal processing functionality with the proven energy friendly Gecko technology, making these devices ideal for lower energy applications.

Cortex-M4 with FPU and Signal Processing Technologies

The Cortex-M4 processor has been designed with a large variety of highly efficient signal processing features applicable to digital signal control markets. The processor features extended single-cycle multiply-accumulate (MAC) instructions, optimized SIMD arithmetic, saturating arithmetic instructions and an optional single precision Floating Point Unit (FPU). These features build upon the innovative technology that characterizes the ARM Cortex-M series processors.
Specifications
IEEE 754 standard compliant
Single precision floating point unit
Fused MAC for higher precision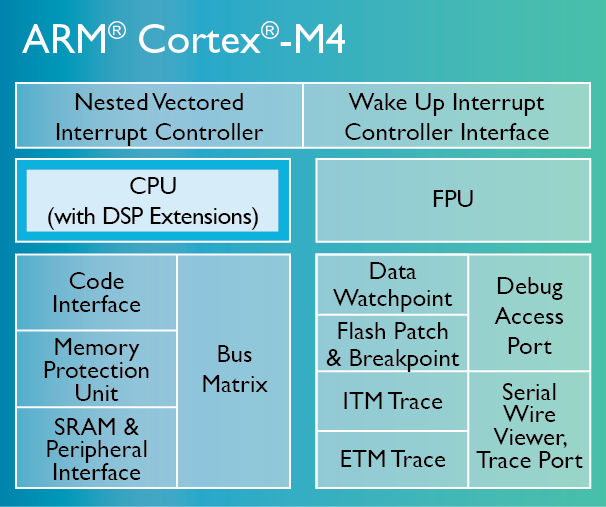 Select Columns
Speed (MHz)
Flash (kB)
RAM (kB)
USB
LCD
UART
USART
I2C
I2S
Packages
Giant Gecko S1

EFM32GG S1 GG11 and GG12 32-bit Microcontrollers

72
512, 1024, 2048
192, 384, 512
2
5, 6
2, 3
2, 3
BGA112, BGA120, BGA152, BGA192, QFN64, QFP100, QFP64
Pearl Gecko

EFM32 Pearl Gecko 32-bit Microcontrollers

40
128, 256, 1024
32, 256
0
2, 4
1, 2
1, 2
BGA125, QFN32, QFN48
Wonder Gecko

EFM32 Wonder Gecko 32-bit Microcontrollers

48
64, 128, 256
32
5, 7
3
2
1
BGA112, BGA120, QFN64, QFP100, QFP64