Protocol Life Cycle
Silicon Labs will add new features based on market requirements and continously improve the Z-Wave Protocol to position the Z-Wave Ecosystem. The Z-Wave Protocol Life Cycle is a process to provide rapid innovation, new features and robust matured protocol release to Z-Wave Partners. The Z-Wave Protocol Life Cycle defines the maturation process of Z-Wave Protocol generations and consist of three phases divided in five Life Cycle stages.
Please refer to the latest release notes for the life cycle status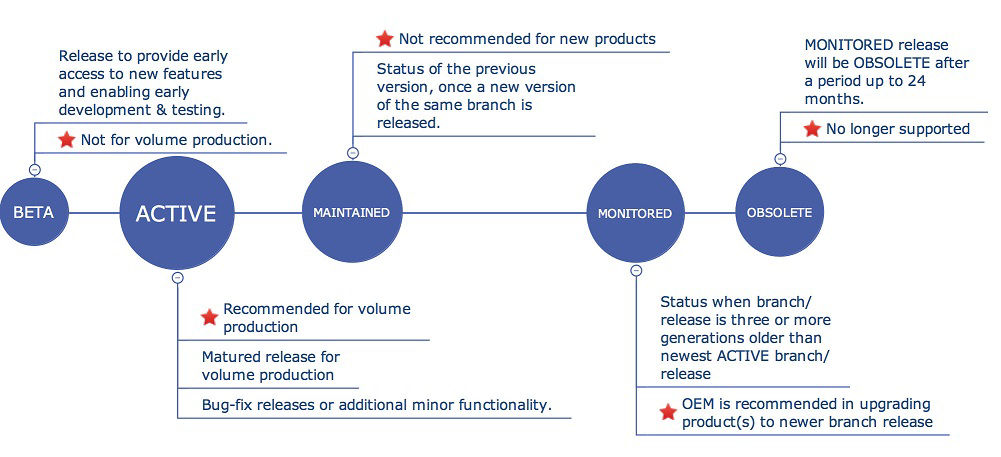 Ascent Phase (BETA)
Silicon Labs releases new Z-Wave protocol generations (branches), i.e. initial BETA release of a Z-Wave Protocol generation that will introduce major new features/functions or support for a new Z-Wave Single Chip generation.
Maturity Phase (ACTIVE/MAINTAINED)
Each new generation will generate follow on matured releases to resolve protocol issues prioritized by Silicon Labs and based on input from Z-Wave Alliance Partners.
Decline Phase (MONITORED/OBSOLETE)
After a period of 17-24 months in the maturity phase a branch/release is discontinued and for an additional period (up to 24 months) a discontinued branch/release will be monitored since products based on this branch may still be shipping or under warranty in the field.
Life Cycle Status
(Phase)
Version Number (Example)
Overview/Recommend Use
Support Provided
New Features
Minor Change Request Added
Severe Issues Fixed
Moderate
/Minor Issues Fixed
Presence of Issue Verified
BETA
(Ascent Phase)
X.50
Relase to provide early access to new features and enabling early development & testing.
Not for volume production - BETA release will immediately enter OBSOLETE status once a matured release is active for the same branch.
- BETA version will not be released with known servere issues, but may have moderate or minor issues
- Protocol issues found on in BETA release are fixed in forthcoming release
YES
YES
N/A
N/A
N/A
ACTIVE
(Maturity Phase)
X.27

X.28, X.29 ... X.2n

Matured release for volume production

Subsequent ACTIVE releases introduced as bug-fix releases or additional minor functionality. Recommended for volume production

- Full support on ACTIVE releases based on classification of issues
- New matured releases are provided typically 5-8 every months 
—
—
YES
YES
YES 
MAINTAINED
(Maturity Phase)
X.25
Status of the previous version, once a new version of the same branch is released. Not recommended for new products
- Support is provided
- Protocol issues is provided through Z-Wave Technical Service (ZTS) website
- Protocol issues are fixed in the corresponding ACTIVE release
—
—
YES
—
YES
MONITORED
(Decline Phase)
X.06
Status when branch/release is three or more generations older than newest ACTIVE branch/release. OEM is recommended in upgrading product(s) to newer branch release
- Protocol issues reported or found will be verified on MONITORED releases
- Information is provided through ZTS website
—
—
—*
—
YES
OBSOLETE
(Decline Phase)
(X-1).2x
MONITORED release will be OBSOLETE after a period up to 24 months.
- No longer supported
—
—
—
—
—