IoT Software Longevity Policy

Silicon Labs strives to provide consistent and predictable guidelines for the availability of software support for its IoT products.
The software support lifecycle described below pertains to the Silicon Labs' Software Development Kits (SDK) and supporting tool framework. These guidelines are subject to change based on factors outside of Silicon Labs' control, including those related to the nature of the evolving IoT landscape and its broad scope.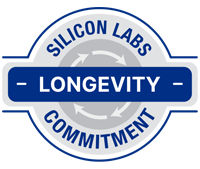 Release Cadence
Major and minor software releases are generally published on a bi-annual cadence with patch releases typically released on a monthly cadence and depending on the nature of the change.


Release Status
Criteria
Active

There is only one active release per software product
The most recent software publication as defined by major.minor.patch
Active releases are eligible for maintenance

 Patch releases are represented by incremented patch numbering 

with the new head of release being a greater patch-revision than the previous.

     eg. version 2.12.1, ......, 2.12.x (max. 5 per active release)

 A preceding patch version is automatically retired and considered frozen and further bug fixes will only be applied to the current head 

of release.

 Maintained

Eligible for standard bug and security patching

 Available to the existing Major.Minor Active Release
 Less than 12 months old
 Bug fixes performed to the head release of that product.

Eligible for limited patching

 Available to the existing Major.Minor Active Release and its 

preceding Major.Minor Release

 Aged beyond 12 months but is still less than 24 months
 Limited to critical software incidents and security vulnerabilities as 

deemed by the PSIRT committee

Frozen

These products are either

 Older than 24 months
 Superseded by a patch release