The Lyra Series from Laird Connectivity Grows the EFR32 Ecosystem
07/28/2022 | | 3 Min Read
Laird Connectivity is introducing its new Lyra S family of SiP modules, which are compatible with Silicon Labs' Bluetooth Xpress BGX220 and BGM220 Bluetooth modules. In this guest blog, Florian Baumgartl, field applications engineer at Laird Connectivity, explains how this new offering brings together Silicon Labs' hardware excellence and Laird Connectivity's added value software, module expertise, and broad support capabilities.
New Solutions for the Silicon Labs Ecosystem – the Lyra Series
Laird Connectivity is a Silicon Labs wireless design partner with a wide range of capabilities in RF and hardware design, software services, EMC and RF testing, and much more across our 40+ years in designing for wireless. If you're in the wireless space, you've probably heard of us and our offerings in Wi-Fi, Bluetooth, ISM/LPWAN, Antennas, and IoT packaged products. Earlier this year, we introduced our latest product offering based on the Silicon Labs EFR32BG22 SoC, the Lyra Series. Available in SiP (Lyra S) and PCB (Lyra P) module form factors, the Lyra Series represents the beginning of a trusted partnership with Silicon Labs and an investment in the excellence of Silicon Labs' hardware platforms. This is an introduction to what Laird Connectivity offers in the Lyra Series, and what we are making available on our version of this hardware, as well as our capabilities as a company and what we offer the developer at every step – from design, planning, integration, testing, and finally going to market.
Who We Are: Simplifying Wireless Connectivity
Laird Connectivity is a global company with broad capabilities and support services with one overriding goal: to make wireless design simpler and more effective for developers and OEMs. Our teams span every stage of the product design and manufacture roadmap: hardware and RF design from the ground up; software development from firmware up through application development and SaaS; dedicated EMC testing and RF testing teams to help OEMs navigate wireless performance and compliance/certification testing; support and FAE around the world to interface directly with your engineers and anticipate problems before they arise; manufacturing and availability to help your design scale and deploy around the world.
The Lyra Series – Marrying Silicon Labs Hardware with Our Comprehensive Software and Services
Laird Connectivity's Lyra Series carries all the hardware features and capabilities of the EFR32BG22 SoC and is compatible with the hardware available today from Silicon Labs. The Lyra P and Lyra S marry all the benefits of Silicon Labs hardware, software, and tools offerings with Laird Connectivity's added value application software, services, certification, and support capabilities. This seamless partnership provides customers with multiple software development options suited to their resources and skillsets in Bluetooth LE-enabled product development. The Lyra Series includes small form factor PCB modules as well as ultra-compact SIP options to suit any host board footprint. Together, Silicon Labs and Laird Connectivity will drive down your total cost of ownership, design complexity and risk, whilst ensuring you the fastest time to market for your next Bluetooth LE-enabled IoT design.
True industrial operating range - designed and certified to the highest industrial temperature range of -40 ºC to +105 ºC for every component utilized.
Global approvals – make yourself at home: carries several modular FCC, ISED, EU, UKCA, MIC, KC, and Bluetooth SIG approvals.
Low-power operation for battery-powered IoT - intelligent power schemes, deep sleep mode, and low power consumption leads to long-performing IoT solutions even on a battery.
Security features on EFR32BG22 - Secure Boot, ARM TrustZone, Hardware Cryptographic Acceleration.
Pre-certified antenna offerings - internal antennas pre-tested and certified for use with the Lyra S SIP module.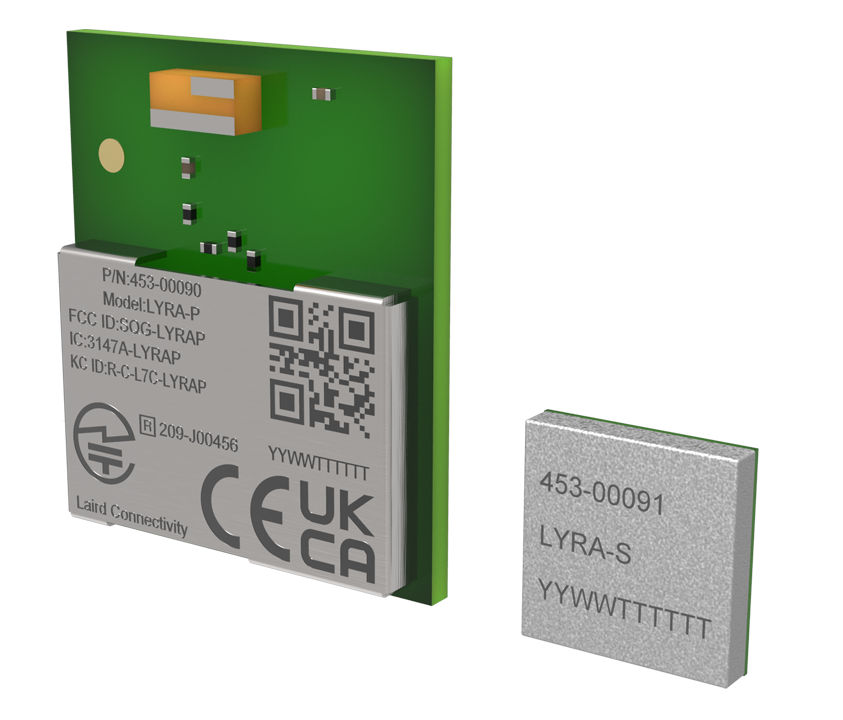 Three Software Offerings to Develop Your Way
Laird Connectivity aims to bring the Lyra Series (and therefore the EFR32BG22 chipset) to new customers, as well as provide support options for existing customers of Silicon Labs modules. With that in mind, we're making available three options for software development that cater to existing development, as well as introduce our simple, easy to use AT Command Set to a new hardware platform:
AT Command Set - fully featured and extensible, proven over 5+ years. Simplest implementation with all key Wireless Xpress features.
Wireless Xpress - frozen at current release, this option provides an upgrade path for existing Silicon Labs customers. Secure FOTA-capable firmware, Xpress command API for iOS/Android.
C Code Development - full software development with Silicon Labs SDK and toolchain. Use Simplicity Studio IDE for full functionality of Silicon Labs hardware and software.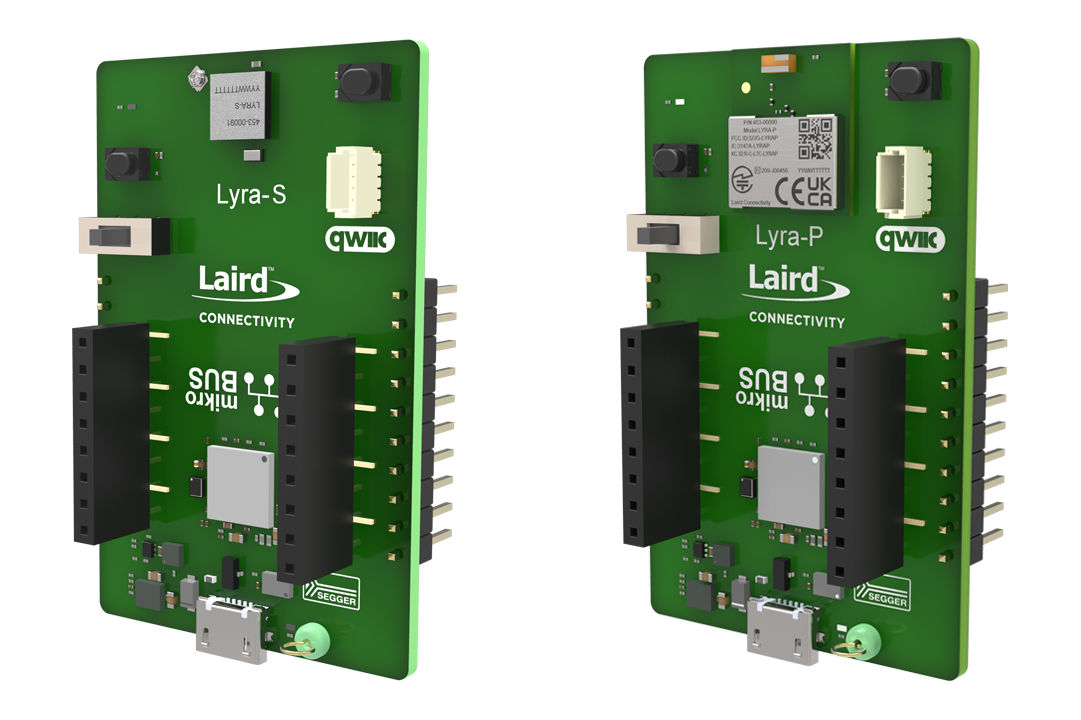 Learn More about the Lyra Series
The Lyra Series is currently under development and is scheduled for release in Q3 of 2022. In the meanwhile, visit our Lyra Series product page for more information on hardware specifications, features, currently-available hardware documentation, and more. And, prior to release, visit our website for a chance to win a Lyra Series development board! The Lyra S and Lyra P development kits are a reliable, flexible route to prototyping your wireless design. Supporting the full range of our firmware development options and exposing the full capabilities of the Lyra modules, the Lyra DVKs drive down design complexity and risk and ensure the fastest time to market for your Bluetooth LE-enabled IoT design.
Find all this and more at www.lairdconnect.com/lyra-series.