IoT Hero Arrow Growhouse Helps Commercial Farmers Use Less Water, Space, and Pesticides
02/11/2021 | Silicon Labs Expert | 4 Min Read
We recently had the opportunity to speak with Dave DeMona, Arrow Electronics' engineering manager for lighting, about Arrow's new smart horticulture platform: Arrow Growhouse. Concerns about global population growth, sustainability, and ecologically friendly farming are encouraging growers to adopt innovative technologies to improve farming practices.
Late last year, Arrow Electronics - one of the leading electronics distribution companies - introduced a new IoT platform with superior lighting controls. These controls help the commercial farming industry improve crop yield and gain better control of their indoor crops, decreasing water, space, and pesticide usage. The platform also equips growers with remote wireless control and monitoring of indoor farming operations and conditions. The demand for smart agriculture products such as this one has been growing rapidly. Dave explains below what prompted Arrow to build the scalable and smart horticulture system and how exactly it works.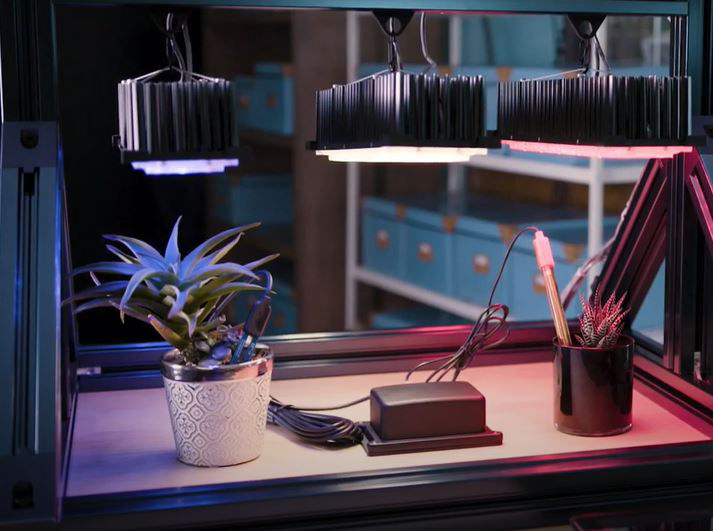 Can you tell us about Growhouse?
The Arrow Growhouse platform is a flexible, scalable, smart agriculture solution for monitoring and controlling key aspects of a commercial growing environment. It combines environmental and plant-level monitoring and multichannel lighting control into a single, cloud-based user interface with both a web and mobile app. It's compatible with most of the horticulture luminaires currently in the market, and the underlying architecture allows for easy development of additional sensing and control modules based on a customer's individual needs.
What components are included in the platform?
The system can be bought either piecemeal or as a complete system, depending on what the user needs. The basic kit includes a gateway that communicates back to the cloud and a multichannel LED controller that connects to the horticulture luminaire itself, allowing the user to control the different color channels. The kit also includes a soil sensor to monitor the moisture level and the pH of the soil. Customers can add more sensors and controllers as needed.
The architecture of the system is customizable: if a farmer has unique needs and wants to monitor aspects of the system that the base package doesn't cover, it's easy for us to develop additional sensor modules to fit their needs.
What was the inspiration behind creating this smart horticulture solution?
Over the past few years, we've been involved with a number of different horticulture and horticulture-adjacent customers. We noticed that - although clients had great ideas on how to optimally grow plants - there was an underlying set of fundamental requirements. This client base is predominantly growers, not hardware and software experts, so we thought: What if we built a base platform that could be individualized and customized for their unique needs?
How long has the product been available?
The product was launched last year and was enabled by a combination of recent technology advancements:
The maturation of LED technology enables practical implementation of controllable LED luminaires for horticulture. Suddenly, farmers could control the spectrums that a plant sees throughout its growth, which can trigger specific characteristics.
In addition, advances and cost reductions in communication and sensing started to allow for better monitoring of what's happening at the plant level.
These combined factors sparked a revolution a few years ago and this reflects on the feedback surrounding Growhouse to date. Systems have historically been disparate and manual (such as lighting, environmental controls, and fertigation), but Growhouse integrates all of the monitoring and control capability into a single, intuitive user interface.
Why did you select Silicon Labs' technology for your platform?
Like many IoT platforms, Growhouse involves a gateway, end devices, and communication to a cloud and a user interface. Communication between our end devices is via Zigbee, and communication for commissioning is via Bluetooth. We chose Silicon Labs Zigbee modules for the radio because it's a high-performing, integrated dual technology that tackles our needs.
What are the primary market drivers of smart horticulture?
Growth in the market is due to a variety of needs: resource conservation, population growth, a desire for local production, reduced transport of produce and grown items, and the reduced use of pesticides and fertilizers. A lot of these needs tie back to the intent of creating an ecologically sustainable method of farming.
Smart agriculture also provides a highly controlled environment, so growers end up with not only faster-growing crop yields, but more consistent yields with less waste fallout. Adding control to different aspects of the growth environment allows the grower to ensure their crop is behaving the way they want it to, when they want it to.
There has been a boom in indoor horticulture in recent years. How is indoor farming better for the planet?
It really is all about the control of the plant environment. When you're growing outside, you're subject to the whims of the weather. With indoor horticulture, the grower has complete control over that environment, leading to significantly reduced water usage and needs for fertilizers and pesticides. Indoor agriculture also allows for farming in regions that may be unsuitable for certain outdoor crops. For example, in some areas in Africa where you really can't grow certain crops in the ground, growing food within a warehouse or container allows people to cultivate locally.
How do you see IoT technology supporting sustainable agriculture in the future?
We look at the evolution of farming as the evolution of human history. Until recently, we haven't had a lot of insight and data into how to farm better. The direction I see IoT going in smart agriculture is in the implementation of AI: doing something with all the newly derived data now being gathered on a more and more granular level. I think we will see a continuation of automation from the time the seed is planted in the ground until it's ready to harvest.
Everything will be based on the sensors' data and the rules developed, enabling better quality and crop consistency, less fallout, and more locally grown crops. We'll start seeing smaller versions of these systems at a local level - whether that be for a small city or a college campus - all the way to the point where we may have these systems in our own homes, much like a micro-garden in your kitchen. Regardless of how green your thumbs are, you'll be able to create quality produce at home, and get rid of all the transportation needs and other external factors.